Peanut Butter Overnight Oats
(6 Ingredients – 6 minutes prep time)
A vegan, gluten-free oats recipe that provides healthy fat, protein, fiber, vitamins, minerals, and rich antioxidants! Keep reading if you think it's too good to be true!
Preparation time: 6 minutes
Soak overnight (6-8 hours)
Instructions:
1. To a mason jar or a tall jar with a lid, add milk, MCT oil powder (improves metabolism and provides a boost of energy), and peanut butter and give it a quick stir with a hand blender to mix it thoroughly and avoid lumps. To this mixture add in your maple syrup, chia seeds, and rolled oats.
2. Then press down with a spoon to ensure all oats have been moistened and are immersed in the milk.
3. Cover securely with a lid or seal and leave it on the counter for 2 hours for it to soak/set (I mix it while I am preparing dinner so I can leave it on the counter for a few hours).
4. Set it in the refrigerator overnight (or for at least 6 hours) to cool and soak.
5. The next day, open and enjoy as is or garnish with desired toppings (coconut, berries, bananas, almonds, walnuts). Go creative! It tastes delicious hot or cold.
Tips: Your overnight oats will be fine in the refrigerator for 4-5 days so make a big batch and enjoy this healthy breakfast throughout the week. Not freezer friendly though.
This 1 serving of overnight oats with the ingredients above will nourish you with 20g protein, 25g healthy fats, 16g fiber. 1/3 of your daily requirement of fiber will be met with just 1 serving of this recipe!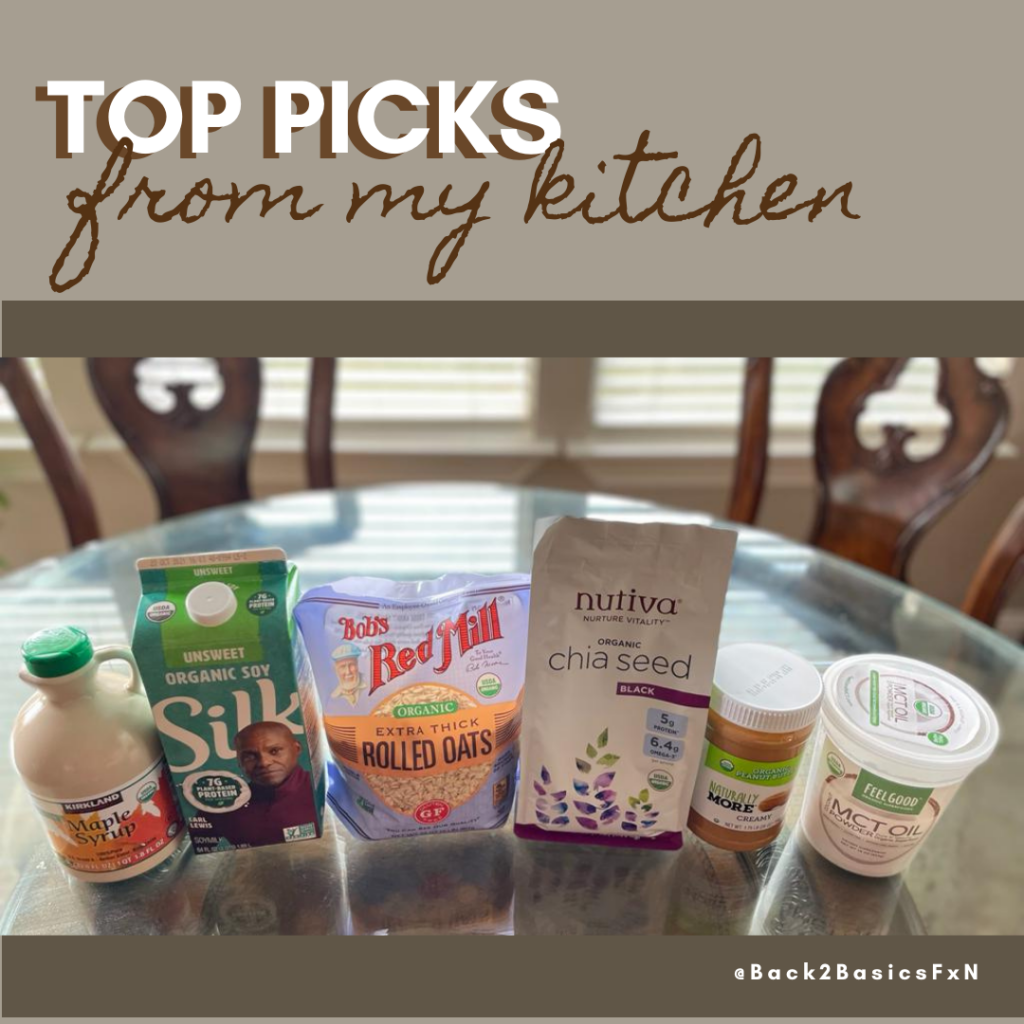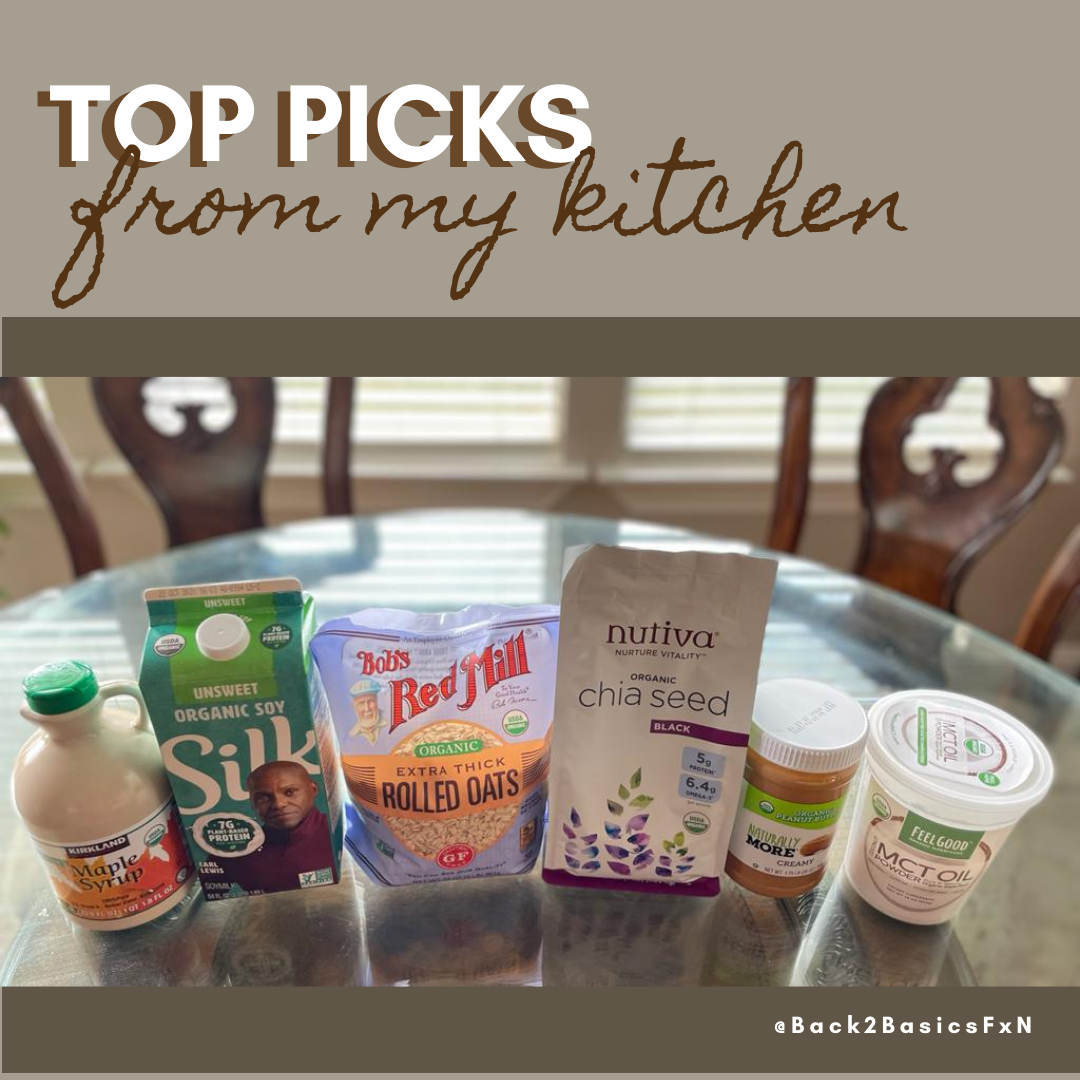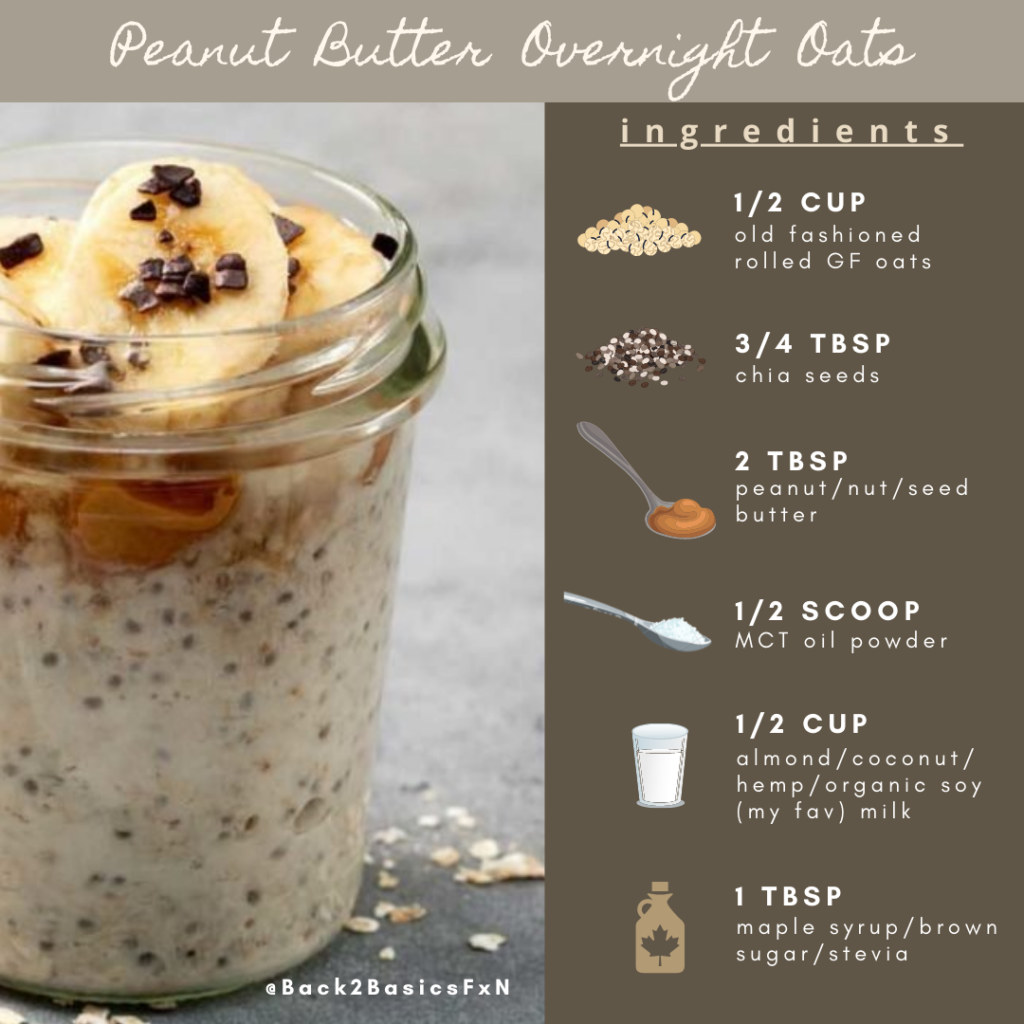 Nutrition facts for oats:
Benefits include improved glucose control, lower cholesterol, and relief from constipation, to name a few.
Ø Oats as grains are not only rich in carbohydrates, they are higher in protein and fat than most other grains making them a balanced and nutrient-dense food.
Ø Oats contain large amounts of beta-glucan which is a type of soluble fiber. And this soluble fiber is what may be helping improve insulin sensitivity and also help lower blood sugar levels (1,3).
Ø Oats are also high in antioxidants and phytonutrients. Phytonutrients and antioxidants in whole grains have not received as much attention as the phytonutrients in fruits and vegetables (3).
Ø Studies indicate that oat bran can help reduce constipation in the elderly, significantly reducing the need to use laxatives.
Ø Oats are the most effective whole grain for lowering both total and LDL cholesterol (2).
Ø Oats may also help in losing weight as it is known to increase satiety (3).
Ø Oats are rich in vitamins and minerals like potassium, magnesium, and calcium. We do not picture oats as being rich in calcium but it is.
Once you make this healthy breakfast recipe which is so delicious and easy to make, it's going to be a regular in your household. Try it out and let me know if you are officially a member of #overnightoatsclub:)
You can check more of my delicious & healthy recipes here :
Bon Appétit.
Smiles, Niti.
References:
1. Alminger, M., & Eklund-Jonsson, C. (2008). Whole-grain cereal products based on a high-fiber barley or oat genotype lower post-prandial glucose and insulin responses in healthy humans. European journal of nutrition, 47(6), 294–300. https://doi.org/10.1007/s00394-008-0724-9
2. Hollænder, P. L., Ross, A. B., & Kristensen, M. (2015). Whole-grain and blood lipid changes in apparently healthy adults: a systematic review and meta-analysis of randomized controlled studies. The American journal of clinical nutrition, 102(3), 556–572. https://doi.org/10.3945/ajcn.115.109165
3. Rebello, C. J., Chu, Y. F., Johnson, W. D., Martin, C. K., Han, H., Bordenave, N., Shi, Y., O'Shea, M., & Greenway, F. L. (2014). The role of meal viscosity and oat β-glucan characteristics in human appetite control: a randomized crossover trial. Nutrition Journal, 13, 49. https://doi.org/10.1186/1475-2891-13-49
Summary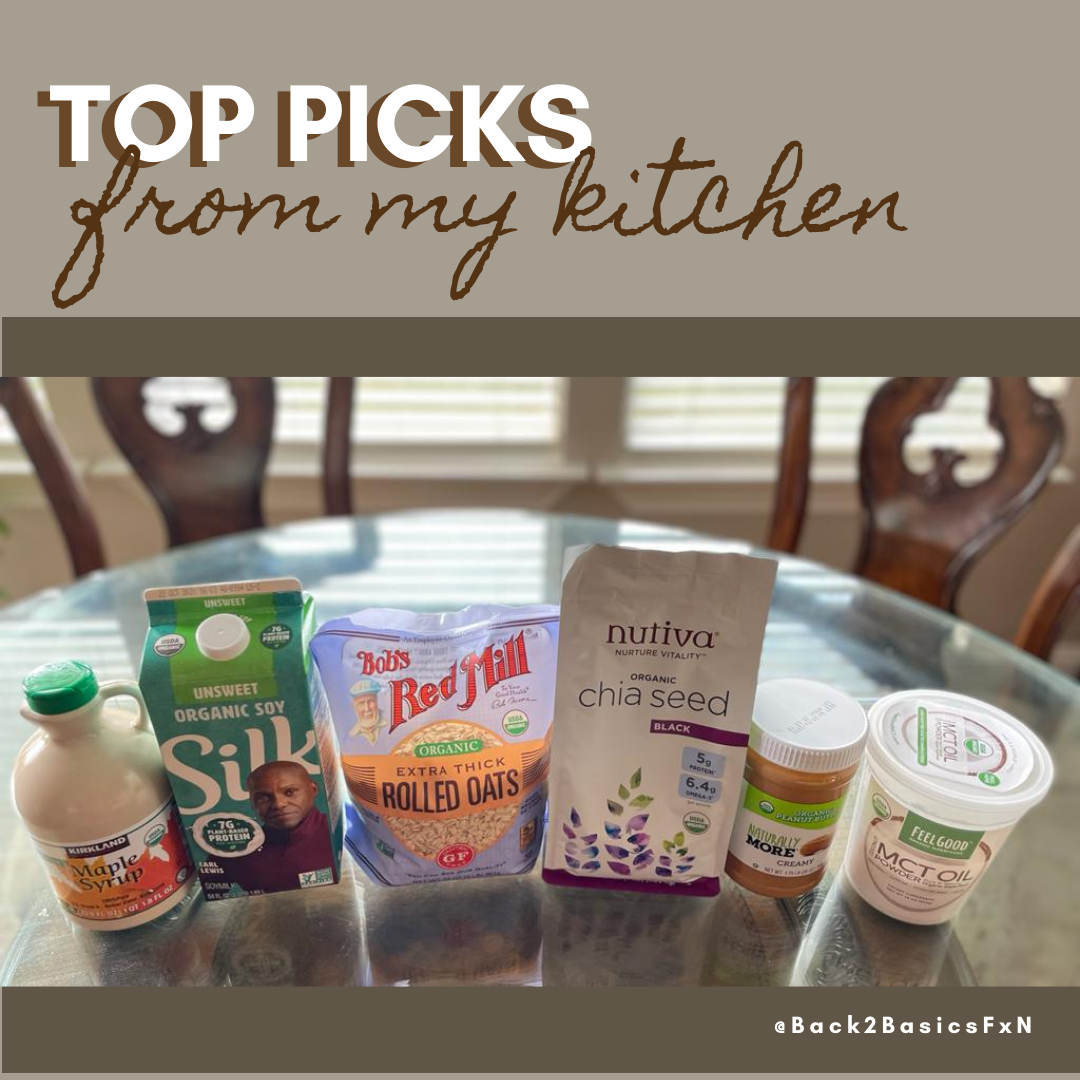 Peanut Butter Overnight Oats
Peanut Butter Overnight Oats
Dr. Niti Shah, PT, MS, CNS, LDN
Dr. Niti Shah, PT, MS, CNS, LDN
Published On
2021-11-22
PT360M
PT3666M
5
Based on 2 Review(s)