We recently came back from an international trip (first family trip post pandemic) and unlike other times where I would be concerned about eating outside and worried about digestive health, I am happy to share that all of us did great. No gut concerns… And a big thanks goes to the power of PROBIOTICS that I have in my toolkit and our immune health.
The more I understand the power of gut health and microbiome, feel I can get on rooftop to shout how gut manipulation with prebiotics, probiotics, fiber and flavonoids from fruits and vegetables can be answers to many many chronic diseases.
Healthy Microbiome = Healthy Individual
Multiple studies confirm that optimal Gut health is the key to not only Digestion but Metabolism and Immune function within us as well. When gut health is altered, it opens doors to many many chronic diseases. But the good news is when the gut is rebalanced, the disease can be reversed as well.
The understanding has likely resulted in a buzz around PROBIOTICS.
Probiotics do have numerous health benefits, no doubt. But do all probiotic supplements work for all and all conditions?
My passion for gut health was sparked when I learned clinical application of prebiotics and probiotics to modify the microbiome and its ability to treat GI disorders from my grad school professor and the best in the field – Dr. Jason Hawrelak. 👉🏼Check out his extensive accolades and publications here https://www.probioticadvisor.com/about-us/dr-jason-hawrelak/ Dr. Hawrelak's probiotics research has helped spark a change in the way thousands of practitioners across the United States, Canada, and Australia in how they manage and heal GI disorders. Listen up as he explains and busts all the myths surrounding probiotics.
My hope with this Probiotics Mythbuster episode is for you to have a better idea to use probiotics for your health and look further into your gut microbiome if need be.
Cheers to better gut health and microbiome diversity…
P.S. If you want to receive a handout of
my Healthy GUT = Healthier YOU protocol basics
Hit Reply to this email with "GUT"
I am often asked-
"What Yogurt (probiotics in food) do you recommend?" My fav ⬇️⬇️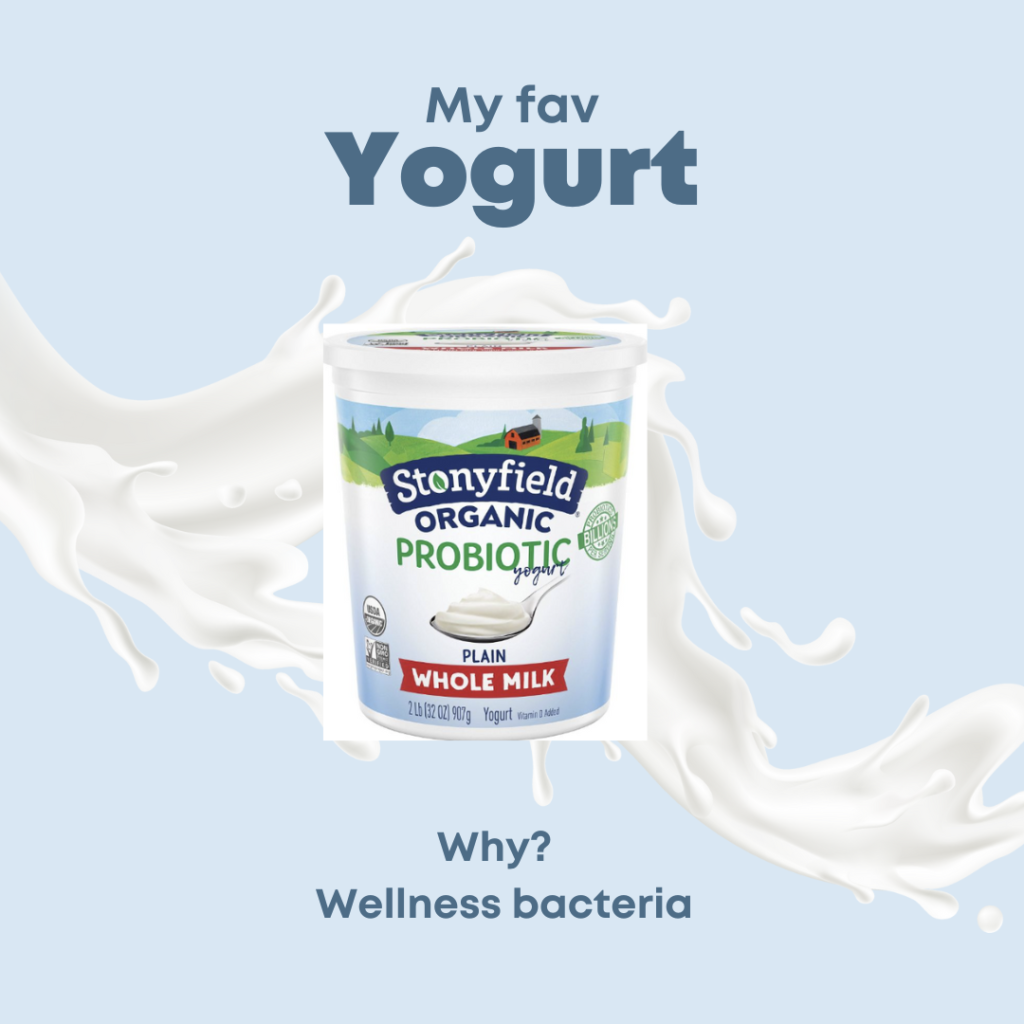 This particular yogurt contains a unique probiotic strain Lactobacillus Rhamnosus GG also known as LGG. LGG is not routinely found in all yogurts and that makes Stonyfield Yogurt a great one for your microbiome diversity and better gut health.
Next time you go to the grocery store look at the active cultures listed and you will see Streptococcus thermophilus and Lactobacillus bulgaricus as the active ones mostly.
P.S. For those looking for a non-dairy Yogurt – Forager's Probiotic Cashew milk yogurt is a good alternative.
If you find this information helpful, feel free to share with friends n family!
Cheers to better Gut health and Microbiome diversity…
XOXO Niti